Morecambe Bay Respiratory Network (MBRN) has achieved a 36% reduction in GP referrals to Respiratory Outpatients at University Hospitals of Morecambe Bay NHS Foundation Trust (UHMBT) thanks to its Multi-Disciplinary Team approach - exceeding its initial target by 12%.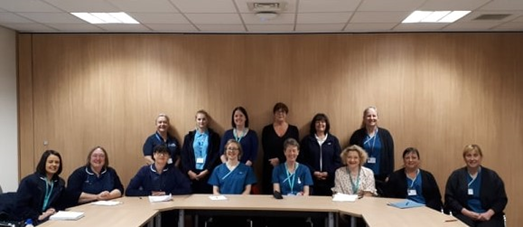 ​Over the past year 14 GP practices across the Bay, who are part of the Network, have adopted the MDT approach to improve their knowledge of long-term respiratory conditions including asthma, Chronic Obstructive Pulmonary Disease, bronchiectasis and Interstitial Lung Disease, and the best ways to manage them.
Each of the GP practices has identified a respiratory team including GPs and specialist nurses who alongside physiotherapists and occupational therapists attend the MBRN monthly MDT meetings with a consultant where they discuss the diagnosis, individual treatment plans and best options for patients with complex respiratory conditions. There are two monthly MDTs held every month – one for the north Lancashire locality and one for the Furness locality.
Morecambe Bay Respiratory Network (MBRN) was formed in 2017, following 'respiratory care' being identified as a priority in the NHS' Long Term Plan. The Network has successfully brought together primary, secondary and community care providers who manage patients with respiratory disease with the aim of providing more effective and better care in the community, avoiding the need for some patients to attend hospital appointments.
Dr Arun Thimmiah, a GP at Abbey Road Surgery based in the new Alfred Barrow Health Centre, said: "The MDT approach has been a great success in managing complex respiratory disease issues. It has definitely been the way forward for colleagues in primary, secondary and community care and the great achievements so far reflect this."
Other achievements of the Network over the past year have included:
increased referrals to Pulmonary Rehabilitation by 30% in Furness and 24% in North Lancashire
reduced waiting lists for Pulmonary Rehabilitation from 36 weeks to 12 weeks
the recruitment of 18 staff including 15 to community teams to facilitate an increase in Pulmonary Rehabilitation and Rapid Response capacity
the launch of a Morecambe Bay Respiratory Network website with resources on respiratory conditions and education tools and advice on diseases, medications and coronavirus (COVID-19) for staff.
the launch of standardised recording via an integrated electronic patient record system (EMIS) to ensure all staff across primary, secondary and community healthcare have access to the same information to ensure patient care and experience is the best it can be.
Gillian Lilley, of Heysham, who was diagnosed with phenotype asthma around 30 years ago and also suffers from bronchiectasis and Stuart Ellis, of Morecambe, who has had bronchiectasis for nine years were attending the Network's Pulmonary Rehabilitation back in March before the coronavirus (COVID-19) pandemic and gave the following feedback at the time.
Gillian said: "Due to the conditions I have, I breathe quite rapidly, the exercises and educational sessions are helping me to manage my breathing better and I hope to be able to go back swimming because it's something I really enjoyed doing. Everyone who comes to the sessions are really supportive and the staff are amazing. I would definitely recommend the sessions to anyone with a long-term respiratory condition."
Stuart Ellis added: "The staff are all very supportive here and the exercises are manageable at home as well. The sessions have helped me to understand why I had trouble with my breathing and have helped me to cope better."
Dr Shahedal Bari, Medical Director, UHMBT, said: "Morecambe Bay Respiratory Network has seen some fantastic achievements over the past year. It is encouraging to see colleagues from primary, secondary and community working together to create a seamless service for patients with respiratory issues across the Bay."
The MBRN operates as a cohesive partnership between primary; secondary and community care providers to proactively and consistently manage respiratory disease to a high standard across the bay. This new way of working is another example of Bay Health and Care Partners working together more effectively to provide better care in the community, which will keep people across Morecambe Bay healthier and at home for longer without having to come into hospital.
***All photos were taken before the coronavirus (COVID-19) pandemic.