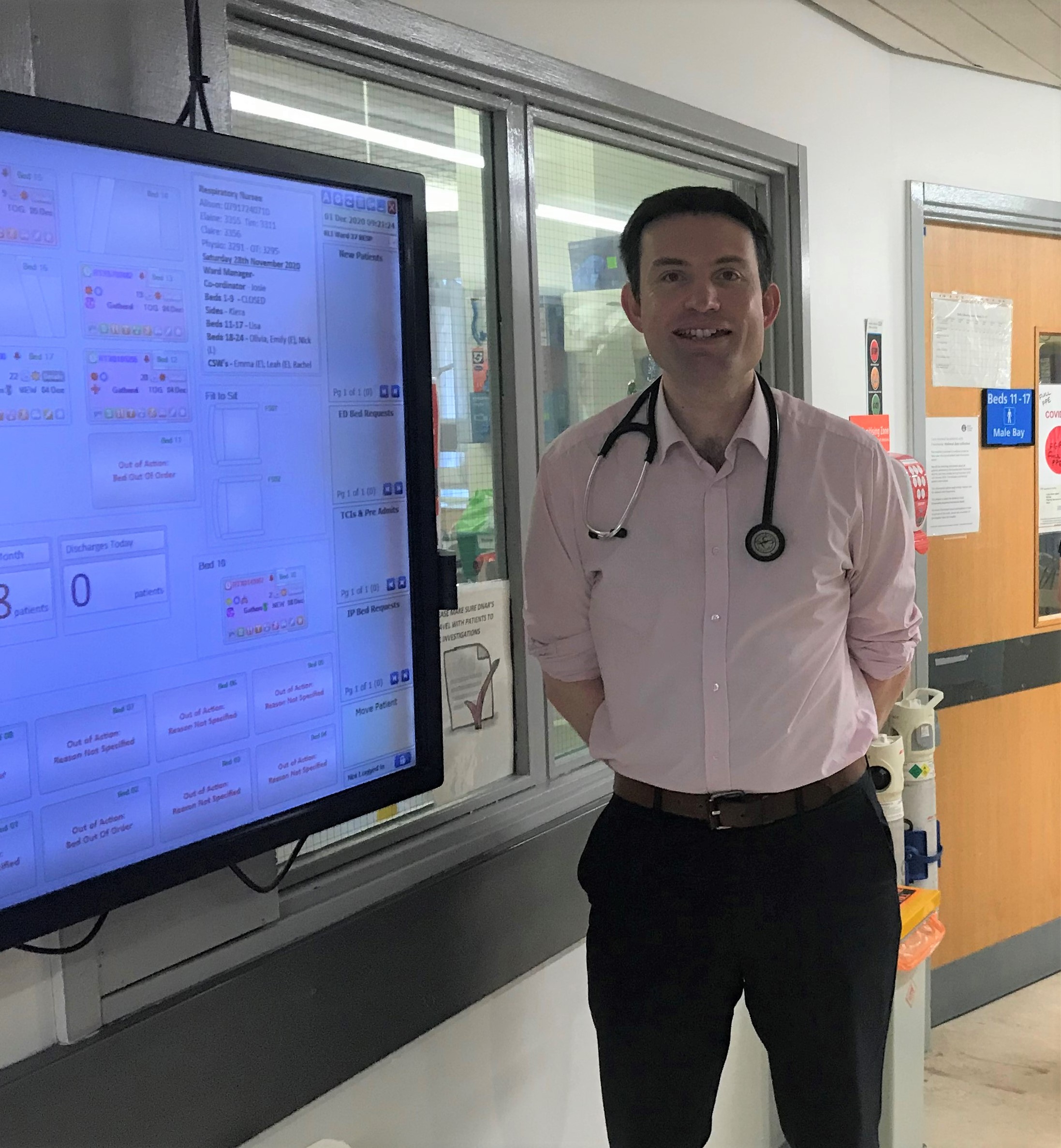 Patients with coronavirus (COVID-19), who don't need immediate hospital attention but are at high risk of developing serious symptoms, are being given special monitoring devices to use at home.
The 'Pulse Oximetry at Home' service is being provided by University Hospitals of Morecambe Bay NHS Foundation Trust (UHMBT) and other hospital Trusts working in partnership with GP practices across Lancashire and South Cumbria.
This at-home monitoring service is available for certain people with a positive COVID-19 test result who have coronavirus symptoms and are identified as being clinically vulnerable to having low blood oxygen levels due to a pre-existing health condition.
A Pulse Oximeter is a small, lightweight device that is used to monitor the amount of oxygen carried in a person's body.
Dr Tim Gatheral, a Respiratory Consultant at UHMBT, is working with Emergency Department (ED) colleagues to ensure that patients who present in the ED and who could be discharged home with monitoring, can receive a Pulse Oximeter and telephone support.
Tim said: "It's vitally important patients know can identify danger signs of deterioration and are able to seek urgent help if they feel worse.
"By using oximeters to monitor patients in the community we can help by tracking people's signs of early deterioration, especially in those with less obvious symptoms.
"The use of devices and mobile apps alongside clinical care is already saving lives and is enabling teams like mine to personalise the care we can provide to patients with COVID-19 or long term conditions, and improve their experience whilst ensuring they remain safe and well."
New systems are in place that will automatically send COVID-19 test results to GP practices as well as sharing them with the patient. This will let GPs see which of their patients have had COVID-19 tests and whether they have tested positive or negative.
A senior clinician within the practice will review results daily and, if a patient is at high risk from COVID-19, they will refer them to the Pulse Oximetry at home service. This scheme will also help to ensure that hospital beds are available to those who need them most during the COVID-19 pandemic.
Using this remote monitoring service, healthcare professionals will check-in on patients over the phone or through a mobile phone app and patients will use the Pulse Oximeter to measure the oxygen levels in their blood several times a day.
If GPs and other clinical staff can identify COVID-positive patients with low oxygen levels early, there are proven treatments that improve survival rates, the chance of recovery and reduce the need for a stay in hospital. It can also help to reduce the length of stay that a person might need in hospital.
One of the main concerns about COVID-19 is how it can cause a condition called 'silent hypoxia'. Silent hypoxia is when a person's body is starved of oxygen but without causing noticeable symptoms such as breathlessness. This results in patients not realising just how unwell they actually are due to their perceived symptoms being mild.
A way of identifying silent hypoxia is by monitoring blood oxygen levels. This can be done by using the Pulse Oximeter. The device displays pulse and blood oxygen levels and can monitor patients in the comfort of their home. If levels start to drop, this will be picked up early so treatment can begin in a timely manner. This early warning system should provide some reassurance that any deterioration in health will be picked up sooner.
Enabling patients to use Pulse Oximeters in their own homes and the sharing of positive COVID-19 test results with GPs, will ensure that the most vulnerable people in local communities receive the support they need to manage their condition from home. It will help them and the medical professionals monitoring them to know when they should attend a hospital.
Cumbria Health on Call (CHoC) are delivering the 'Pulse Oximetry at Home' service for South Cumbrian patients. Working in partnership with South Cumbria CCG and UHMBT, CHoC are managing and receiving all the referrals for the South Cumbrian pulse oximetry service and providing a daily clinical monitoring service using our Nurse Triage Team. The service is enabling patients to be clinical monitored while remaining at home. Patients are receiving a local service provided by local clinicians which is fantastic support for them.
ENDS
Notes to editors
For more information please contact the UHMBT Communications Team at: communications.team@mbht.nhs.uk