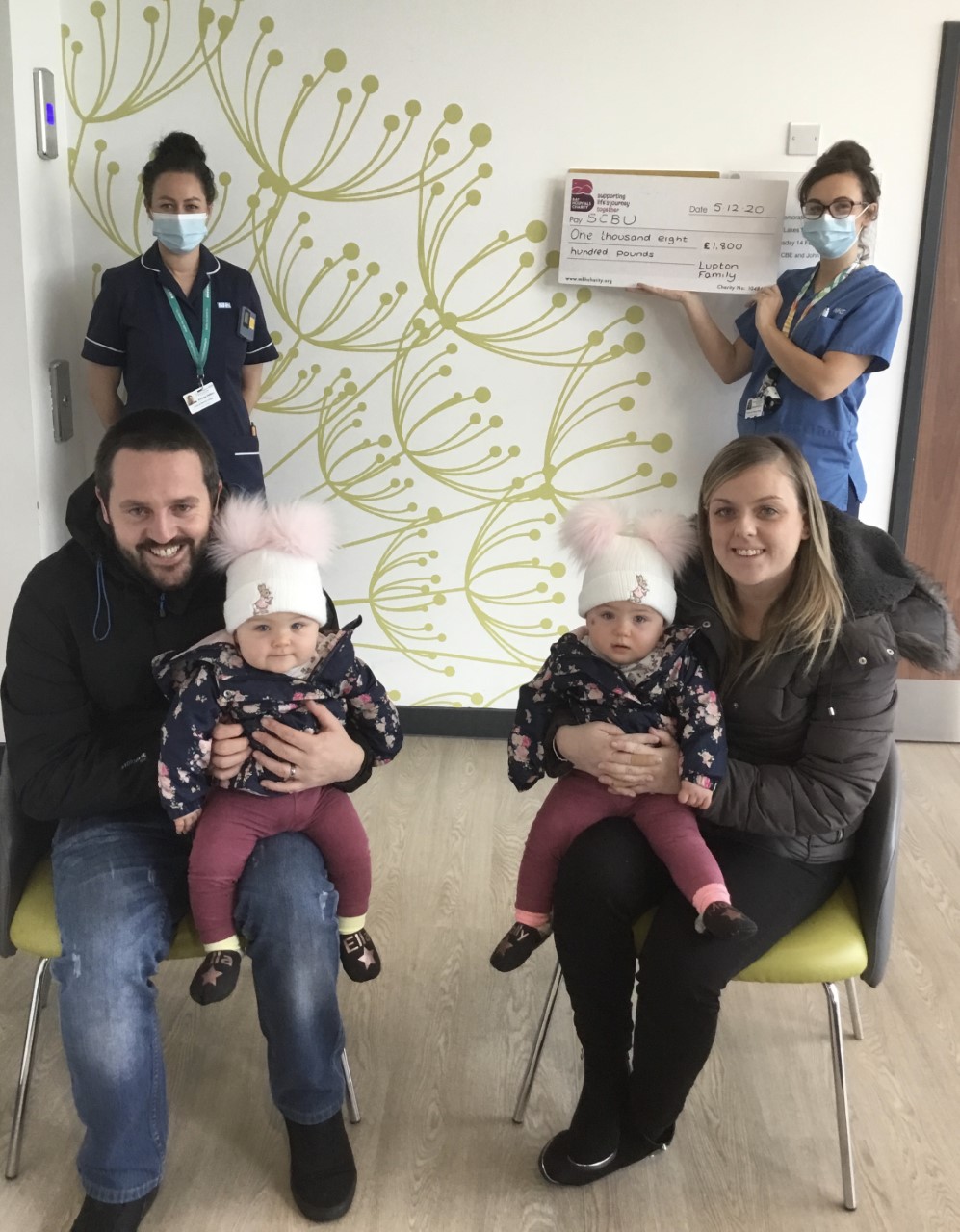 A family from Millom have raised £1,800 for the Special Care Baby Unit (SCBU) at Furness General Hospital (FGH).
Katie and Oliver Lupton raised the funds after staff at the SCBU cared for their twin girls Ella and Molly for 12 days in January when they were born six weeks early.
Katie, said: "We really wanted to give something back for the care they gave to them and everything they did for us as a family. Nothing was ever too much for them and every question we had was answered."
The family raised the amount in just one week by holding a raffle on social media. The prizes which included gift vouchers were donated by local individuals and businesses and were made up into 30 gift hampers for the raffle winners.
Katie, added: "This left us absolutely speechless. We are so grateful to every single person who donated prizes and bought raffle tickets. I know how much this money is going to be appreciated and I'm so glad we can give something back to the SCBU for all they did for our family."
The money will be used to create a new Parents' Room for families to use in the SCBU at Furness General Hospital.
Gillian Renshaw, Clinical Lead, Neonatal, Furness General Hospital, said: "On behalf of our babies and their families, I would like to say a huge heartfelt thank you for everyone's kindness and generosity. The fundraising enables us to buy much needed items required to make a difference to the lives of our vulnerable little ones. Without donations, we also cannot fund the research and support that is vital to enable us to deliver the highest quality of care for the babies and their families.
"We are truly grateful to Katie and her family for this amazing effort and we intend to use the money for our new Parents' Room which will provide an area where mums, dads and siblings of the babies can relax, get some food and still be close to the baby in the nursery."
Heidi Bowron, Charity Coordinator, Bay Hospitals Charity, said: "We are incredibly grateful to people like the Lupton family. Every day, incredible things happen across our hospitals, but this is not without cost. Support from our community can help fund the latest equipment and help make your local hospitals more comfortable, ensuring you get the best care and treatment possible."
Photo: L – R: OIiver Lupton, Sister Andrea Dalton, Ella and Molly Lupton, Katie Lupton, Staff Nurse Bethan McKenna