Mixed reality headsets – Microsoft HoloLens 2 – are transforming how staff care for patients with coronavirus symptoms at University Hospitals of Morecambe Bay NHS Foundation Trust (UHMBT) during the coronavirus (COVID-19) pandemic.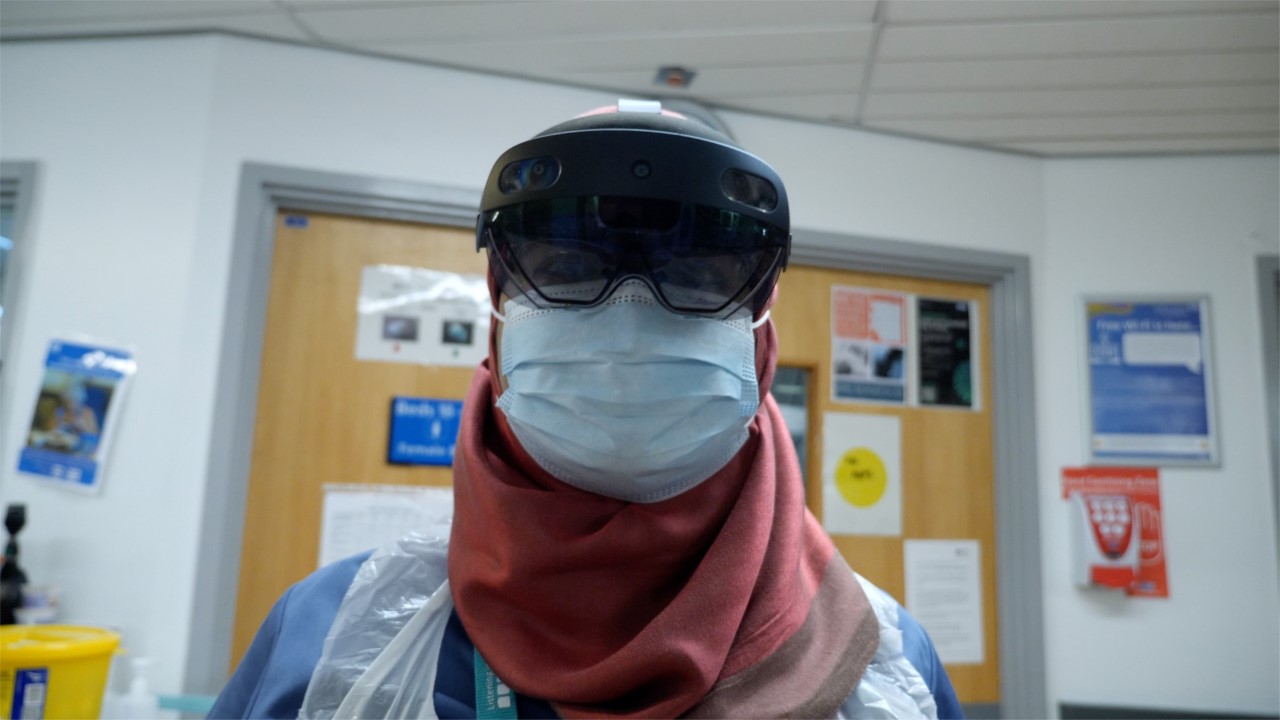 HoloLens 2 has been trialled by staff on the respiratory ward at Royal Lancaster Infirmary to support patient care and staff safety and now the Trust plans to introduce the headsets on the respiratory ward at Furness General Hospital over the coming weeks.
Dr Timothy Gatheral, Respiratory Consultant, UHMBT, said: "HoloLens 2 is an exciting piece of technology that offers the capability to minimise face to face contact with patients who have symptoms of coronavirus whilst ensuring they receive immediate access to expert specialist opinion on the ward.
"Minimising the number of physical contacts with infected cases helps to keep patients and staff safe. This also offers huge promise in accessing specialist opinion more easily out of routine hours and for educational purposes. I hope that new and innovative ways of working will be at least one positive outcome from the pandemic which has caused so much grief and sadness in our community."
The Trust is working in partnership with other organisations on the project with aims to:
reduce infection rates
reduce the need for multiple members of staff in contact with patients who have coronavirus symptoms at any one time
reduce the amount of Personal Protective Equipment (PPE) used
ensure the safety of staff and patients.
The HoloLens 2 headset can be worn by a nurse or specialty/senior doctor when carrying out a ward round with patients who have symptoms of coronavirus. The headsets are linked up to a Dynamics 365 Remote Assist app which uses Microsoft Teams to send a secure live video feed to a computer screen meaning a respiratory physician working remotely or in another location in the hospital can receive a call from the headset into the headset wearer and assess the patient through the eyes of the nurse or specialty/senior doctor at distance.
Rather than put users in a fully computer-generated world, as virtual reality does, HoloLens 2 allows users to place 3D digital models in the room alongside them and interact with them using gestures, gaze and voice.
Dr Colin Brown, Chief Clinical Information Officer, UHMBT, said: "Protecting our staff and patients during the pandemic was a major motivating factor for the Trust introducing HoloLens 2. We needed an innovative solution and HoloLens 2 offers our staff safe, hands-free equipment that can be worn while wearing PPE.
"Our infection prevention team has done a fantastic job of creating a decontamination Standard Operating Procedure to ensure the headsets themselves are not an infection risk.
"The multifunctional headsets can be used for training, supervision and teaching purposes and could be a fantastic future benefit for our staff and students/trainees in the future. We are looking at other ways of using the headsets post-pandemic, including in the community with federated clinical services and possibly nursing homes."
Dr Shahedal Bari, Medical Director, UHMBT, said: "It is inspiring to see how HoloLens 2 is being used by staff at the Trust during the pandemic. It is keeping frontline colleagues safe, while significantly improving communications to help patient care and safety."
You can find out more about how HoloLens 2 is helping to keep our staff and patients safe by watching the following video https://www.youtube.com/watch?v=TrQ3AFKlO98