A new service designed to help people affected by cancer to look good and feel better has been welcomed by a patient and volunteer at University Hospitals of Morecambe Bay NHS Foundation Trust (UHMBT).
Susan Robison from Nether Kellet is delighted that the national 'Look Good Feel Better' (LGFB) pampering charity is coming to the Royal Lancaster Infirmary (RLI) on March 17.
Susan, a former civil servant who is originally from Sunderland and has been a volunteer in UHMBT's Macmillan support centre at the RLI since September 2019, is keen to try out the LGFB service and is then going to become a host at future pampering sessions.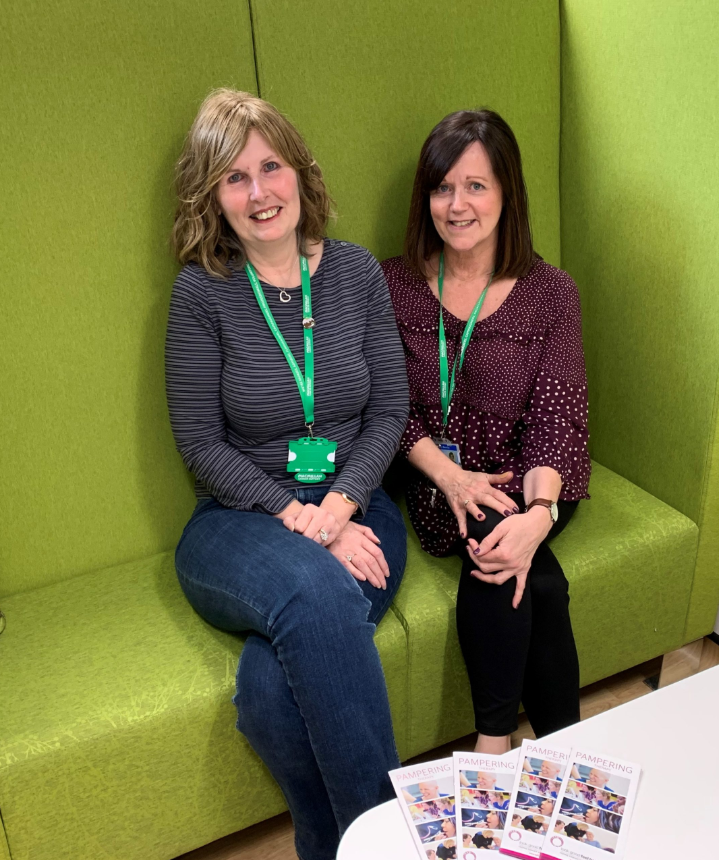 Jo Gardner, Macmillan Information and Support Service Assistant for UHMBT, said: "It's very exciting that we are bringing Look Good, Feel Better to the Trust – I really think it will be of benefit to our patients.
"Through my work I have met patients who have lost their hair, their eyebrows and are having skin problems which has left them feeling isolated and alone. LGFB gives people a chance to come together with other people who have been through similar experiences. The two-hour beauty sessions will be held in a non-clinical and relaxing environment.
"LGFB are in 130 hospitals around the country at the moment but there is a gap in the Morecambe Bay area. We have been working on this for nine months now and it is nearly ready to launch.
"The service is run by fully trained and qualified beauticians who volunteer their time to help others. If any qualified beauticians from the local area would like to take part, we'd be delighted to hear from them.
"Patients have two hours with the beauticians and at the end they are given a gift of a bag of beautiful make-up to take home. We already have a few volunteers and we are working with students from Lancaster and Morecambe College."
At first the service will be offered at the Education Centre at the RLI and in the future Jo hopes to introduce it at Furness General Hospital in Barrow.
The LGFB charity says the therapeutic and psychological benefits of wearing make-up have been well documented throughout history. Even during times of crisis the desire to look and feel confident can still be strong. Nowhere is this seen more clearly than with people who are struggling to cope with the visible side-effects of cancer treatments. LGFB can help in a very practical way and bears testimony to the basic thinking that if you look good, you feel better.
Susan said: "At the moment the nearest places where they offer LGFB are Manchester, Carlisle and Blackpool. It's a bit far to travel if you are feeling unwell and you don't have someone to take you.
"When Jo asked if anyone would like to help with LGFB I jumped at the chance because I've always loved make-up and I've had lots of trouble with my skin due to side effects from cancer treatment.
"After I was ill my skin changed and I'd also lost my hair. My hair loss really affected me. My nails went rock hard and I felt embarrassed. I didn't look in the mirror for months. I was just so ill and I didn't recognise the person in the mirror. I felt like I had gone. It was me but in a strange way it wasn't me. I just didn't have the 'oomph' to do anything."
Susan was diagnosed with Hodgkin Lymphoma in 2015, an uncommon cancer that develops in the lymphatic system, which is a network of vessels and glands spread throughout the body.
Susan had Hodgkin Lymphoma three times and needed seven different types of chemotherapy as well as having a stem cell transplant and a bone marrow transplant.
She said: "This is the best I've felt since I was first diagnosed and had treatment. It's because I've been able to volunteer and do things for other people. My body is battered but my brain isn't!
"It would have been lovely to have had a treat like what LGFB offers. My partner wasn't able to give me a lift as he was working full time so I've never had a chance to try it out before.
"Your confidence can be so low when you have cancer. I think LGFB will give people a confidence boost. When women get together they bring out the best in each other.
"When I was younger I was never a glamour puss. I would wear some make-up but just to look nice – not for other people's benefit.
"Psychologically it's all about people seeing you for who you are and not just as an ill person. I still have health problems but I feel well enough to volunteer. I'm going to be a host for LGFB so I can help to put people at ease."
Look Good Feel Better will be on the first Tuesday of every month at the Education Centre at the RLI from 10.30am to 12.30pm.
For more information on the Look Good Feel Better service at UHMBT please call: 01524 519 578 or email: macmillan.info@mbht.nhs.uk
For more information on the Look Good Feel Better charity please go to: www.lgfb.co.uk or look on Twitter @lgfbuk or search for Look Good Fell Better on Facebook and Instagram