Ms Sarah Hart, Clinical Lead for I3 and Urology Speciality Doctor at University Hospitals of Morecambe Bay NHS Foundation Trust (UHMBT) has been named as the Future Digital Leader of the Year at the national Digital Health Awards.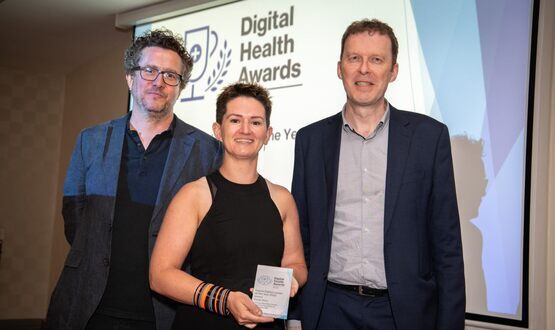 Sarah has been instrumental in a number of key projects at the Trust which use technology and digital systems to improve patient and colleague experience.
These include developing a Ureteric Stent Register which alerts waiting list staff when a patient needs a stent replacement or removal appointment, and leading the review and reform of electronic discharge summaries.
Sarah also led UHMBT to become one of the first NHS Trusts to say 'Bye Bye Bleep' after implementing a new smart-phone based system to replace the traditional pager bleep system to help improve transparency and patient care.
Sarah said: "High quality data is important as it can lead to improvements in patient care and patient safety. It plays a crucial role in improving services and decision making, as well as helping us to identify trends and patterns, draw comparisons, predict future events and outcomes, and evaluate services.
"I act as the interface between the staff on the shop floor and the digital team, so when I hear colleagues talking about the digital processes they use every day, whether that be praising them or struggling, I am able to use their feedback to actively look for any developments.
"The whole aim is knowing that if we can make life easier for the clinicians, we can help make things safer for our patients.
Andy Wicks, Chief Information Officer, UHMBT, said: "I nominated Dr Sarah Hart for this award primarily for her inspiration, drive and efforts to replace the bleep system for junior doctors.
"Sarah has been a long-standing supporter of our Electronic Patient Record development and has a track record of innovation within her specialty. However, throughout the 'Bye Bye Bleep' project Sarah has led from the front and demonstrated great leadership and commitment to take her original idea from conception through to implementation earlier this year.
"Sarah will make a fantastic Chief Clinical Information Officer in the future, capable of motivating not just local colleagues, but nationally too."
See more information about the Digital Health Awards, including Sarah's winners' profile.
Alongside her success at the Digital Health Awards, Sarah is a hockey goalkeeper and was a member of the England O35 squad that won the Masters World Cup in Nottingham this month.
The team beat Ireland 2-1 in a tense final to win the competition following pool matches against Wales, France, Argentina, India and Scotland.
Sarah said: "I've dreamed of playing for England since I started playing hockey as a teenager, and am incredibly proud to have been part of this World Cup-winning team. It was an absolutely amazing experience that I was able to share with an incredible group of players and coaches."