January 2020, and it has finally arrived; a global pandemic due to a novel viral pathogen causing severe respiratory infection. Many factors have enabled our team to deliver an outstanding service for patients and the wider community since SARS-CoV-2 was flagged as a Virus of International Concern by the World Health Organisation (WHO).
Scientific knowledge, diagnostic training and understanding of the epidemiology of disease together with experience of delivering a robust, quality assured service across 2 laboratory sites comes to the fore. We show our proactive and flexible, rapid response.
The culture of the Department is to ensure continual improvement and quality assured results in the best possible time for our patients. No equipment or staffing issues, global pandemic or otherwise, hold us back from achieving this.
For the first time since the situation evolved, we take a moment to reflect on how we have been delivering the service since January 2020 and some of the challenges we've faced along the way.
Dialling into regional Public Health England (PHE) briefing meetings to keep up to date and monitor the situation globally.
Risk assessments are put in place as to how to safely handle samples from potential and actual COVID-19 positive patients.
Decontaminating samples for Blood Sciences during the night on-call. This work is done in addition to day-time shifts.
Making and delivering testing kits to A&E and testing PODS X-bay: in conjunction with COVID Tactical Command.
Microbiology Senior Staff meetings are held daily or weekly, as and when required to manage evolving situation and to plan ahead. Twice daily team huddles continue throughout as the situation and our response evolve rapidly, ensuring information exchange and team support.
Half term - dealing with the news from Pathology Collaboration leads that it is preferred to move all Collaboration Microbiology workload to East Lancashire Hospitals Trust in Blackburn as soon as possible until the hub is built.
Review of service continuity plans. Having 2 laboratories, with staff specifically trained to work in the same way, means we have a robust and flexible service.
RCPath provide details of how services could be stepped down if required – we review and have an action plan, but decide to try not to change any services unless critical. We work around issues all year, but end up never reducing any services whilst also maintaining quality assurance. Target result turnaround time (TAT) of bacteriology samples is maintained at 99%.
UHMBT have a high level of testing nationally, and we directly source the consumables required to support this. The Trust maintains supplies needed throughout, despite order difficulties.
The RLI Co-ordination centre goes live. The Microbiology teams have a close working relationship from day one. Royal Lancaster Infirmary (RLI) site collate and email daily result statistics before the Qlik sense app exists.
Manchester PHE results are manually reported: 100-200 per day, 7 days a week by RLI Senior Team. Turnaround time (TAT) is currently 3 days. We work with Pathology IT & I3 to start setting up electronic requesting and reporting as the only improvement to TAT and data quality we can make at this time.
All COVID associated costs are put onto the Pathology COVID spreadsheets for Finance.
RLI New Pathology Lab – Microbiology team proposes and implements more rest facilities for staff to ensure there is space to take socially distanced breaks and store groceries.
Mid-March – PHE agree that any laboratories can apply for approval to offer COVID-19 testing.
FGH Microbiology team re-deploys staff to help at the FGH Co-ordination centre, with one member of staff staying to support for 6 months. This link between teams proves helpful.
Electronic referral & reporting goes live and the normal workload reduces as lockdown impacts other infectious disease testing, freeing up the team to work on other activities
At the start of April, we approach Biological and Life Sciences (BLS) Department at Lancaster University to borrow their lab equipment. We secure not only their equipment, but also use of their laboratories.
By mid-April, Lancashire Teaching Hospitals (LTH) in Preston go-live with providing testing for Pathology Collaboration, TAT improve slightly.
2 qualified Biomedical Scientists leave the RLI Microbiology team
RLI site begins kitting out the Lancaster University laboratory including completing documentation, validation of assay, training, health and safety compliance, UKAS compliant quality assurance, IT connectivity, reporting compliance to PHE - basically opening a new laboratory.
Orders are placed for Cepheid analysers to provide rapid COVID testing.
Within less than a month on 27th April we go-live with the RLI University COVID testing laboratory. We now provide a 7 day testing service across 3 labs. Staff from the University lab team volunteer to help. Consultant support from Rav Sodi in Biochemistry and Craig Williams for Microbiology.
FGH Microbiology team take over all UHMBT urine investigation workload to support Lancaster University lab staffing. Medical Support and Blood Bikers help to deliver our samples in and out of hours. Pathology Collaboration Hub has been agreed to be built on Lancaster University Campus at this time.
TAT for over half the daily requests is reduced from 48 to 8 hours. UHMBT finally have testing capacity enabling the Trust to act on results within the day.
RLI Microbiology Advanced Biomedical Scientists submit daily testing statistics to NHS England which has to be done before 8am daily. This has been undertaken every day, with submissions for stocks and expected testing capacity following in due course on the Placers platform. This work ensured we received analyzer reagents and swab kit consumables to match the Trusts testing requirements. The data also ends up on the news each day as part of the "total number of samples tested" graphs that start to form part of everyone's daily lives.
Additional unplanned work hours to deliver the new activities and services now required begin for many staff members and don't let up much all year. This includes RLI site extending to a 6am start to support the University COVID testing timeframe.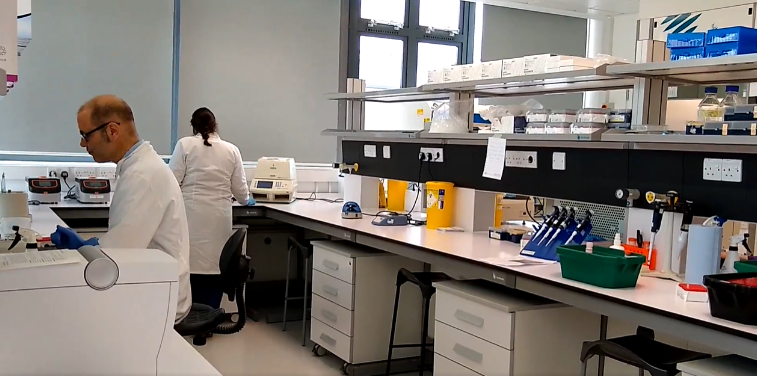 3rd May – Corporate Communications message acknowledging the new University testing facilities issued. Microbiology Department set up and run the testing facility.
NHSi formally approve sign off on our application for the UHMBT/Lancaster University COVID-19 testing laboratory. This is after quality assurance audits provide evidence of testing and reporting processes.
FGH site take receipt of Cepheid analysers and complete the verification and documentation for both labs. Results available in around an hour now for both hospital sites, but test numbers are very limited due to global supply restrictions. Begin using for A&E and ITU patients
Go-live with the Cepheid analyser - Pathology IT set up yet more test codes and we liaise with the Co-ordination centre to ensure everything works with the Qlik sense app.
Mid May – an assay will soon be available for the Hologic Panther analyser. UHMBT are one of the first Trusts nationally to be allocated high throughput testing capacity due to having this analyser. Blackpool Teaching Hospitals (BTH) don't get high throughput testing capacity until September, East Lancashire Hospitals Trust (ELHT) in November
RLI site receive 2 safety cabinets, re-arrange most of the laboratory ready to create a LEAN workflow for high through-put Panther COVID-19 testing.
Dr David Telford and Dr John Cheesbrough come out of retirement to support UHMBT Consultant Microbiologists.
End May - Biochemistry go-live with referring all antibody tests for LTH to test. They share our transport arrangements to save money.
RLI Microbiology support early research into LAMP assays at Lancaster University with Dr Muhammad Munir (BBC news). At the forefront of early work that would later be published and adopted by UCLAN and others.
28th May – Trust estimates 7500 tests per month going forward. It ends up being double this and more!
4th June – COG-UK sequencing epidemiology. UHMBT is the only Trust in the area to participate in the project and have lineage tracking for variants from the start. It requires significant resource to refer our samples to Liverpool, but we refer as many as we are allowed. Trust Communication report on this work in February 2021. To date, we have referred over 1800 positive samples.
10th June - Trust Health & Safety issue communications to ensure COVID-secure workspace risk assessments. These are completed rapidly and have required little modification since. Compliance by staff has been great despite confined space. Mask wearing when appropriate – this is all the time in main labs.
30th June – Panther high throughput testing GO LIVE day!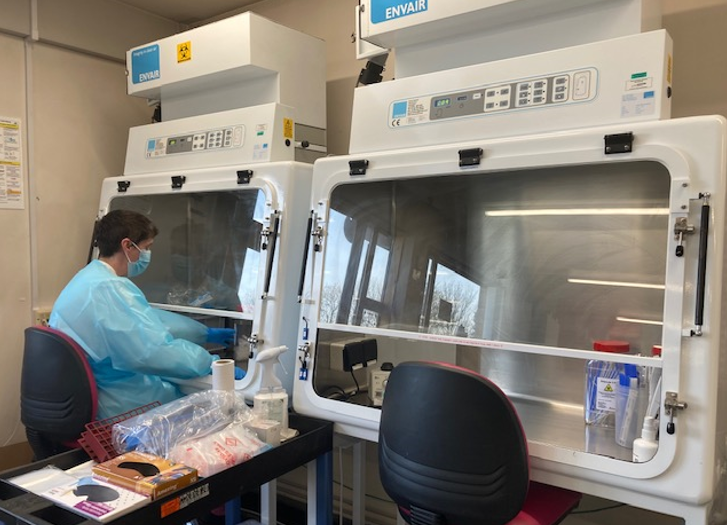 2nd: Last day of testing at Lancaster University COVID lab as we shift staff resources to enable high throughput COVID testing on the Panther at RLI. Testing capacity increases by 300 samples a day. RLI Microbiology extend working day and move to 10pm shift finish, which continues into 2021.
9th July – trial providing Panther testing for Blackpool (BTH) using NPEX, from mid-July over 1/3 of daily capacity is used to provide testing for BTH. LTH has not been able to manage demand for the N3 collaboration patch. UHMBT results are available within 6 hours of arriving at the lab. The TAT is >24 hours for samples referred to LTH.
RLI Microbiology Lab intercom to main door breaks – out of hours means running up and down 3 flights of stairs while trying to work at a safety cabinet and answer the phone. It is 2 months before it's replaced.
Request to recruit bank staff to support Panther workload at RLI site.
Mid-July SIREN study starts. Microbiology provide all testing kits and all samples are tested on the Panther. All positive samples are sent for genomic sequencing.
20th July - pre-orders placed for Biofire RP2.1+ kits to support ITU patient testing.
28th July - bank interviews held and 4 bank team members are recruited to start work in September.
Go-live with providing M.genitalium molecular testing for Blackburn, Blackpool and Preston GUM services. This brings income into the department and consolidates capacity usage on the Panther.
Dr Alasdair Taylor, Consultant Radiologist from Endoscopy, asks for support to undertake research around AGP CT colonoscopy and endoscopy procedures. RLI Microbiology provide the equipment and interpret the cultures for the study. This is presented at the British Society of Gastrointestinal and Abdominal Radiology's 2021 annual scientific meeting in February 2021.
31st July – RLI Microbiology extend their working day until midnight to provide additional testing for BTH as they have a COVID-19 outbreak at their hospital site. Staff respond with <24hours notice to change their shifts for all of the next week to support the patient testing of another Trust. BTH leads commend UHMBT Microbiology for our TAT on their COVID tests and are thankful for the essential help with getting the outbreak under control.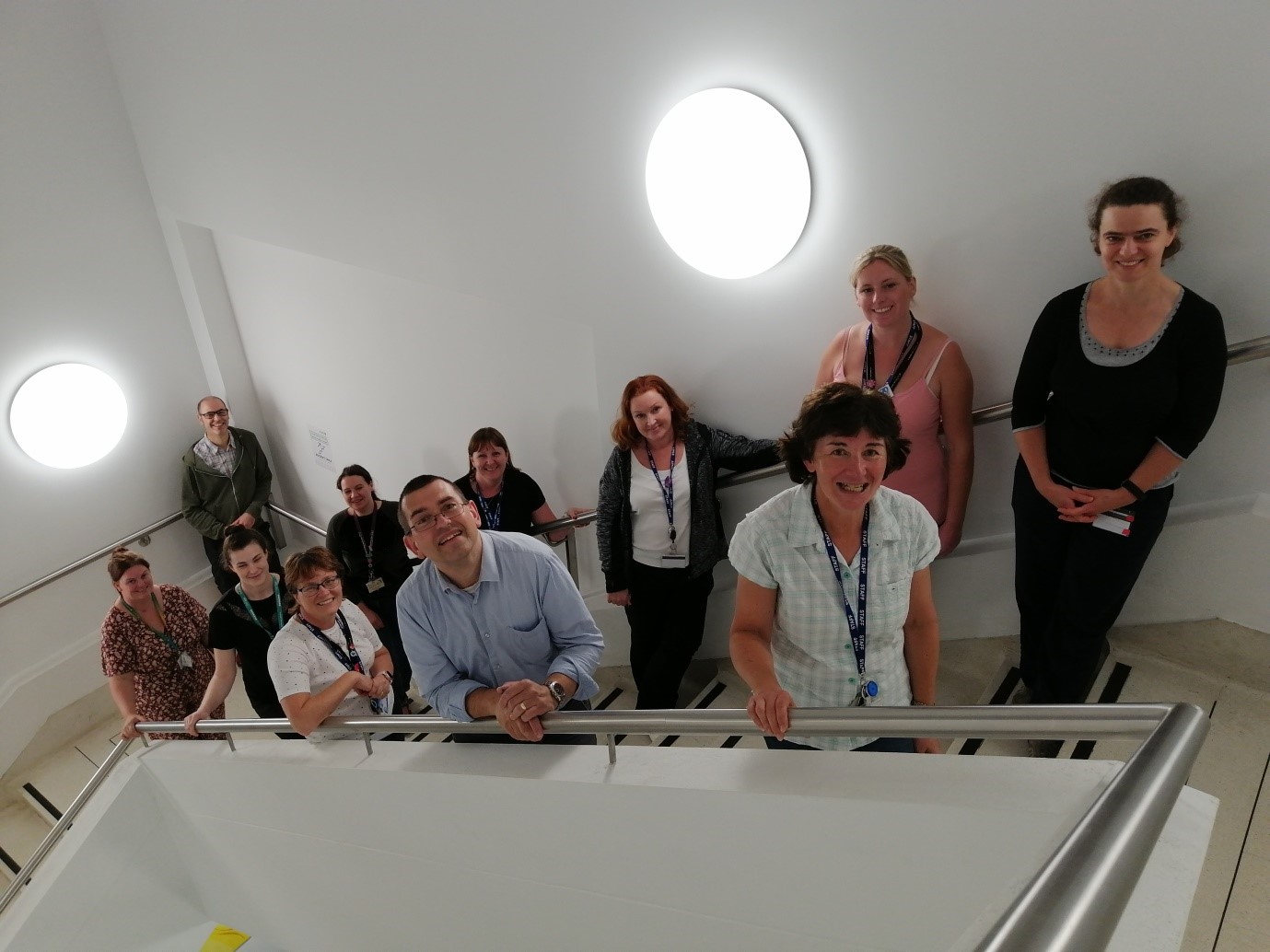 RLI staff work additional weekend and evening shifts to deliver COVID testing and continue routine work. There are no additional staff at this point and vacancies.
FGH Microbiology begins to re-organise and prep lab space to be converted into a Molecular laboratory when nationally funded molecular equipment becomes available.
18th August - 2nd Hologic Panther receives financial approval. New Biofire RP2.1+ kits arrive – kept for ITU patients.
21st August - Panther workflow revised to move to uncapping samples (manufacturer forced) – increased risk of contamination and more labour intensive. LEAN processing plans means we are able to maintain our testing capacity and TATs despite this.
28th August – Collaboration leads run a staff focus group and questionnaire around reviewing location options for the hub (for the third time).
Work with Infection Prevention to make sure all COVID coms and testing supplies maintained so that Covid Coms and links to GPs and Clinicians maintained
Maintain regular Safety Risk Assessments and change procedures as necessary
Teamwork and team support due to workload demands - staff are supported to have at least one full week away from work over summer if they want it. Everyone remarks how much they needed the break and felt the benefit.
FGH Microbiology staff help the Mortuary team during their weekend shifts to report overnight deaths.
14th to 16th - Microbiology have a Health and Safety Executive inspection. HSE are happy with our practices throughout both labs, our staff approach to H&S, are complimentary with our COVID-secure set up. A positive experience for our team.
All through August & September, the Panther is run at full capacity and over capacity some days. This supports the request to purchase of the waste changer panther plus to enable more continual processing.
Middle September - BTH query some positive results. Results are all confirmed as genuine using the Cepheid – additional work, but we also now have additional assurance our results and methods are robust.
End of September - BTH go-live with some in-house testing. We continue to receive a reduced number of samples from BTH to run on the Panther until into the New Year. UHMBT continues to help BTH when their analyser breaks down and they have supply difficulties
UHMBT secure supply of testing consumables to ensure continuity into the New Year as we expect a second wave and Winter seasonality to the spread of COVID-19. Pipette tips and PCR consumables become the in-demand items. Nationally, other Trusts struggle as they hadn't planned ahead.
The LAMP work with Lancaster University is published: Artificial Intelligence-Assisted Loop Mediated Isothermal Amplification (ai-LAMP) for Rapid and Reliable Detection of SARS-CoV-2 (TEMI-2020-1191).
Reviewing COVID-19 testing to date, not only have we repeatedly reduced the TAT for results due to the changes we implemented, we have achieved this in conjunction with an opposing increase in sample numbers.
TDNexlabs – GO Live! From the start of October, several team members ensure rules and coding work correctly due to a planned significant update to our Laboratory Information Management System which issues all of our reports. Not ideal to have to deal with as the second wave starts to arrive, but the big move happens reasonably smoothly on 20th October and we liaise with service users to quickly resolve any issues. 5 months later we're still learning and refining how we can use the new software.
FGH Microbiology receive molecular equipment which will, in time, enable high throughput testing and is flexible open platform which can have pan Pathology use in future - cancer genes etc., not just microbiology.
Testing levels remain high with pre-op screening especially, with often short TAT <24 hours expected on many samples. The lab works around the clock dealing with occasional instrument breakdowns or run failures to ensure patients have their clearance results to attend waiting list appointments. On specific request from the Co-ordination centre or outpatient clinics, patient samples are moved to rapid workflows part way through processing in order to facilitate patient appointments. Backlogs are avoided.
End of October - SAMBA II test platforms considered as options for point of care (POC) testing, but A&E departments don't have space or staff to run them and they are slightly more complex than suitable for POC. As the analysers and test kits are free, it is decided to place them in the Micro labs X-bay to supplement our rapid testing capacity.
We review options to provide 24/7 COVID testing if no POC solution is forthcoming. All lab staff, XBay and Senior teams together discuss how to deliver this and proposals are put forward for the Trust.
22nd - we are informed that at the 3rd review Leyland Industrial Estate is now the preferred location for the Collaboration Pathology Hub. This is complicated news for many staff to process during what has been a tough year.
FGH Microbiology and POC Co-ordinator Dave Ryder undertake the installation and verification of the SAMBA II instruments.
10th - Senior staff from ELHT Microbiology (as they now have a Hologic Panther) come to RLI site to learn how we have set up our Panther processing. We share our workflow, operating procedures and quality assurance processes. We provide ongoing support as experienced instrument users over the following months as they get used to troubleshooting their problems and provide urgent stocks and supplies when they run short. We see them on BBC news showing off their new analyser.
Our on-site UKAS inspection for on-going laboratory accreditation planned for this month is cancelled at short notice by UKAS.
17th - Large green shipping container installed at RLI site to hold some of the consumables as social distancing and many COVID consumables take up so much room.
At the end of November at RLI Microbiology, we have a reception to unpack deliveries and receive patient samples in a designated space. Pipework, plumbing and sinks are replaced with benching, phones and IT connectivity. This has been much needed as the space in lab has been taken up with safety cabinets and machines
1st - Training X-bay to use the SAMBA II instruments
2 weeks later after SAMBAs go-live on both sites, enabling FGH site to significantly increase on-site rapid testing capacity.