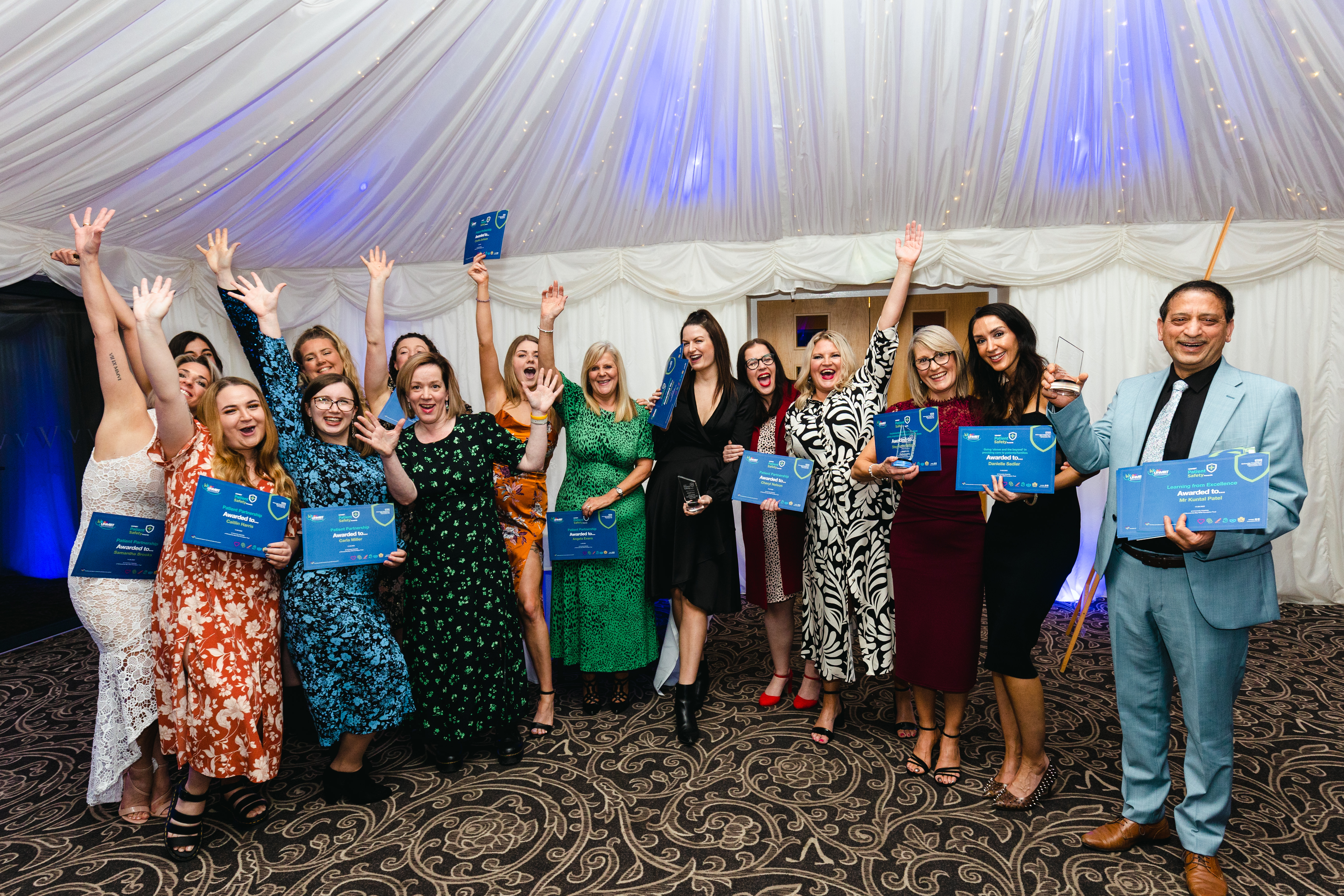 Highly dedicated and caring staff from our Trust were honoured in the first ever UHMBT Patient Safety Awards.
Winners of the UHMBT Patient Safety Awards were delighted to receive recognition and thanks for their hard work at an awards ceremony at The Villa in Levens near Kendal on Friday 17 February.
The awards ceremony was held in the same week as the Trust's 'Patient Safety Day' which took place online on Wednesday 15 February. This gave UHMBT colleagues an opportunity to get together to hear a range of inspirational patient safety experts talking about their experiences, learning and insights.
Aaron Cummins, Chief Executive of UHMBT, said: "Our new Patient Safety Awards recognise individuals and teams for their dedication to keeping our patients safe. I would like to thank our award winners and everyone at our Trust for their incredible and tireless support for our patients. The last few years have been tough and everyone should be proud of the outstanding work that has been achieved."
Jane McNicholas, Chief Medical Officer for UHMBT, said: "My heart-felt thanks go out to our winners, nominees and to all of our colleagues who work so hard to ensure patient safety and excellent patient care. Recognising our colleagues and all of the amazing things they do in their roles is one of the best parts of my job. I feel incredibly proud to work with every single member of staff and these awards have been a wonderful opportunity to celebrate individual and team achievements."
Angela Parfitt, Deputy Director of Clinical Governance for UHMBT, said: "The new awards scheme is intended to encourage, celebrate and help spread quality of care and patient safety improvement across our Trust, and to recognise individuals who have gone 'above and beyond' in providing safe and compassionate care for our patients. Thank you to our award winners and nominees for this excellent work."
Lynne Wyre, Deputy Chief Nurse of UHMBT, said: "I feel it is a privilege to care for patients and families, often at the most vulnerable times in their lives. For every patient we see, there are countless opportunities to ensure that their time with us is as positive and as safe as we can make it."
The first award of the night – the 'Going Above and Beyond Patient Safety Award' - was won by Danielle Sadler, a Bereavement Specialist Nurse for UHMBT.
Danielle's nomination was truly heart-warming and it was as follows: "Danielle supported me and my family with resources and links, spending time - much later than she should have - ensuring I had everything that might help me, my children and the wider community to deal with our loss.
"She then thought of me the following day bringing a gift as she had been thinking about my situation and wanted to bring me comfort. I know that she does the same with all those she supports and I feel very lucky to have such a wonderful, kind and compassionate colleague working in our UHMBT team."
The 'Quality or Patient Safety Improvement Projects/Initiatives Patient Safety Award', was won by Dental Nurse Stephanie Gillies.
Stephanie's highly positive nomination was as follows: "Stephanie has been a huge pioneer of pushing for 'Mouth Care Matters' to be recognised within the Trust. She has recently been working with the stroke wards and has been showing the nursing team the various aids available for patients who have had strokes and how they can be used."
The 'Learning from Excellence Patient Safety Award' was won by the Theatre 4 Team (Ortho Revision Hip and Knee Surgery Team) at the Royal Lancaster Infirmary (RLI).
The Theatre 4 Team was praised for reducing length of stay for patients following revision hip replacements. This has helped to reduce morphine consumption and has reduced the time it takes for patients to bear their own weight after surgery.
The final award was the 'Patient Partnership Patient Safety Award' which was won by the Integrated Community Stroke Team (ICST) at FGH.
The team's nomination included the following: "The FGH team have worked with the Stroke Association and St Mary's Hospice to set up a monthly 'life after stroke' group as part of Cafe Neuro at the Living Well Centre in Barrow. This provides an opportunity for our patients with stroke to have peer support, education about stroke and activities on a monthly basis in an accessible space in the community. The programme provided at these sessions has been planned by our patients and carers who attend sessions."
Glenys Marriott, Chair of Headway South Cumbria, the brain injury support group, said: "We are delighted that the Integrated Community Stroke Team has was won the Patient Partnership Award as we work so closely with the team and other partners. They are lovely people and a really great team. They're very supportive to individuals and their carers. The service started during the COVID-19 pandemic and it's only been running for around a year, but together we have already made a big difference to people recovering from various forms of brain injury."
Jennifer Gardner, Associate Director for the North West, at the Stroke Association said: "A huge congratulations to the ICST at FGH for this award and recognition. This has been a truly collaborative piece of work. It shows what a difference we can make to stroke survivors and their carers when health, social care and third sector providers work collaboratively. Groups play a huge part in stroke recovery, offering a safe and supportive space to try things again, learn more about stroke and self-care and to build your confidence as you rebuild your life after stroke. Once again, congratulations from everyone at the Stroke Association to the teams involved in this award."
Aaron said: "Congratulations to all of our winners – the judges had a particularly difficult task as there were so many excellent submissions. Thank you to everyone for your continued care, compassion and dedication to keeping our patients safe."
END