A campaign aimed at improving quality and safety by ensuring staff have all the information and tools they need to protect their health and wellbeing and flourish at work, has been launched at University Hospitals of Morecambe Bay NHS Foundation Trust (UHMBT) and other Bay Health and Care Partners (BHCP).
The 'Big 5' campaign is based on a similar staff campaign launched in other NHS trusts across the country and highlights the five areas that the Trust wants all staff to consciously think about each day to ensure their safety and wellbeing.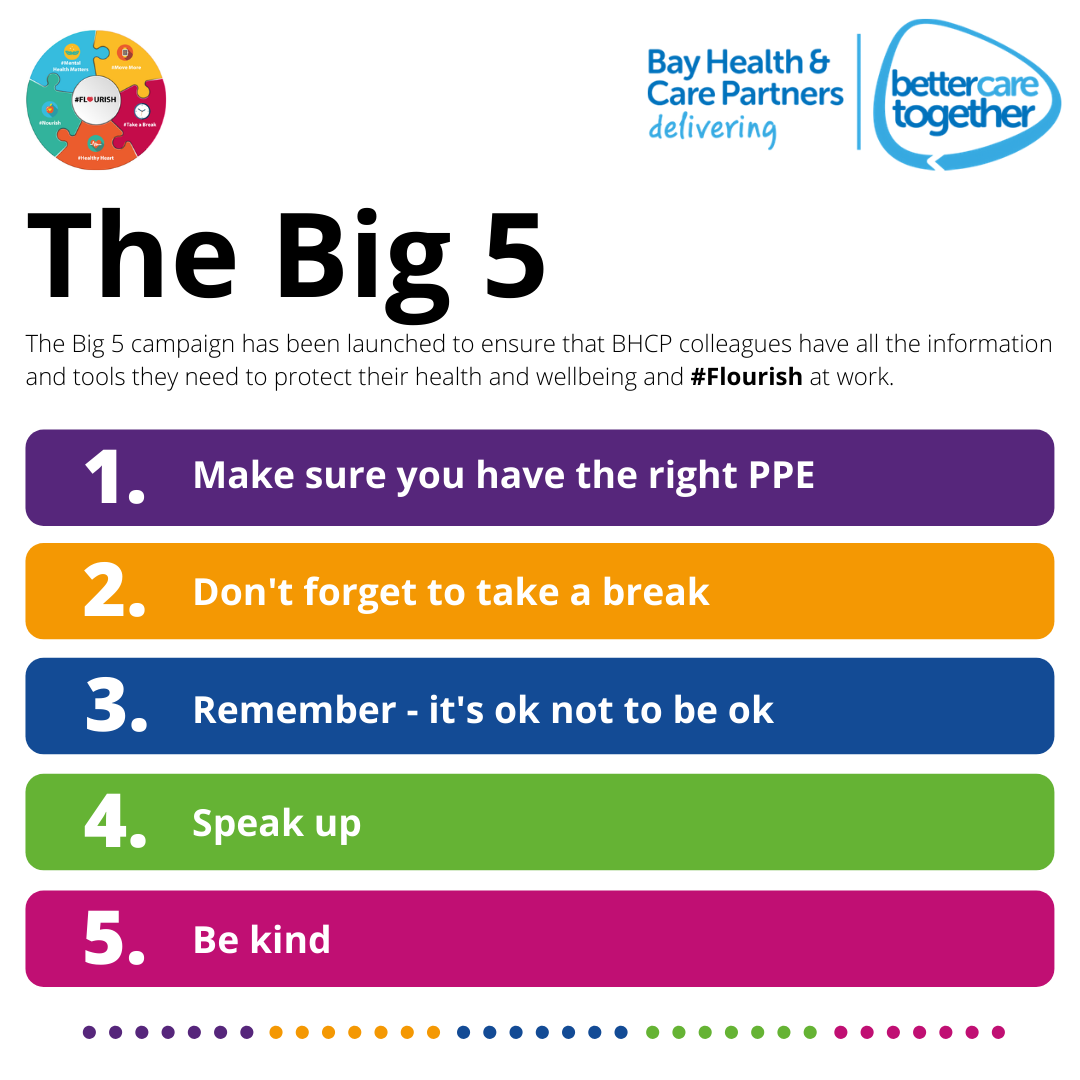 The five areas the campaign focuses on are:
Make sure you have the Right Personal Protective Equipment (PPE)

Don't forget to take a break

Remember - it's ok not to be ok

Speak up

Be kind
An updated bed management plan is now in place across our hospitals. This plan has been developed with clinicians to continue to manage patients in 'coloured' zones depending on their risk of coronavirus (COVID-19).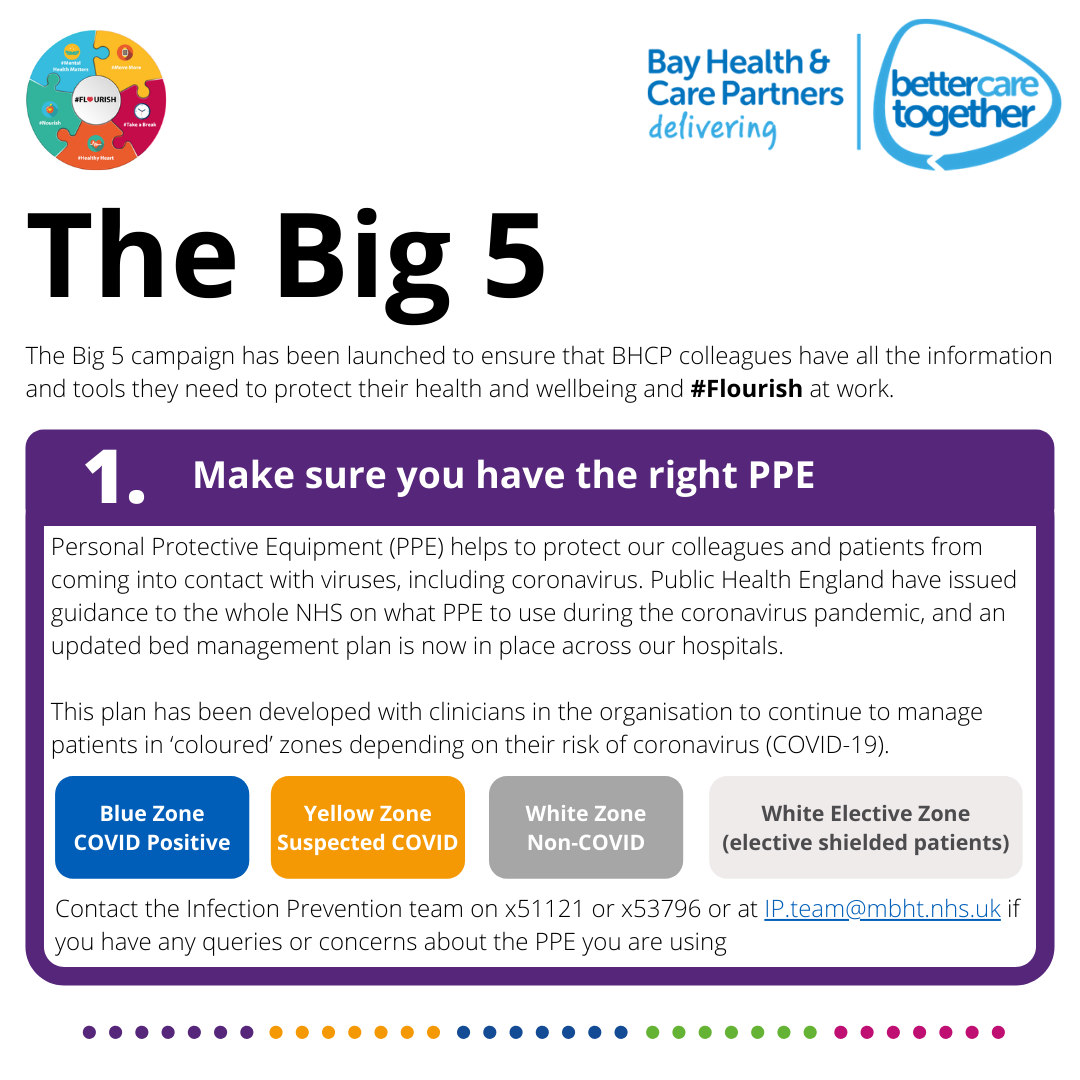 We have wards coded to different colours. These are as follows:
BLUE: COVID positive
YELLOW: Suspected COVID
WHITE: Non-COVID
WHITE ELECTIVE: Non-COVID (elective shielded patients)
This:
Supports streamlining COVID areas as non-COVID need increases
Aligns with the national suggestion of 'blue' areas for COVID
Support the additional requirements for 'white elective' areas to shield patients requiring urgent surgery
Using the correct personal protection equipment (PPE) in each area is important because:
This PPE equipment helps reduce the risk of people from coming into harm.
These items help to stop the spread of coronavirus - if they are used properly they can help save lives.
This PPE will minimise the risk from airborne, droplet and contact transmission.
Hand hygiene should be done regularly, within the WHO 5 moments and after taking off the PPE which will help to prevent ongoing environmental contamination.
They will help protect you and your patients both now and in the future.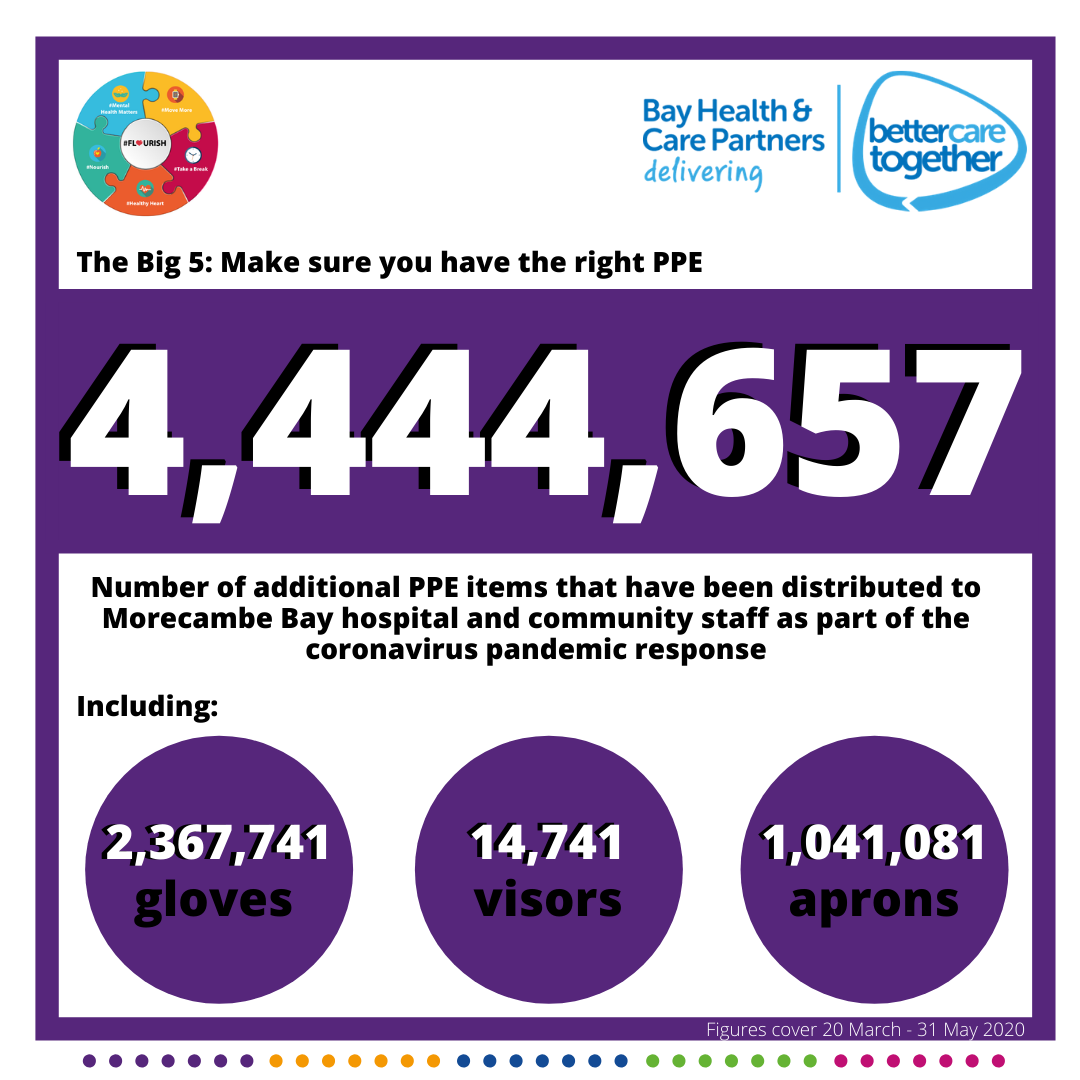 Since March 20th the Trust has issued almost 4.5million individual items of PPE, including more than 1million aprons and 2million gloves..
Currently PPE is required in all clinical settings (including community settings such as the patient's home) when clinical staff are within two metres of a patient.
Week 2 of the Trust's Big 5 campaign looks at the importance of taking regular breaks throughout your working day and when you go home. Take a break is a key part of Occupational Health and Wellbeing Service's Flourish campaign and we hope you find the following information, tips and guides help to support your own health and wellbeing.
Taking a break gives you the chance to take a breather and to replenish your energy levels to help you feel
refreshed and motivated throughout your day. This can be done by eating a healthy snack or having a drink,
physically resting and taking a mental break from things. As well as it being important for your general health and wellbeing, taking a break is important for our patients too as it allows you to make the best possible decisions when caring for our patients. Taking regular breaks and having a rest are essential to ensure you are providing safe, effective patient care to the best of your ability.
We have therefore summarised below the key points of why taking breaks matter.
Taking a break allows you to...
Re-evaluate your goals for the day and assess what you want to achieve today
Refocus - a brief rest helps you to refocus on the work at hand
Injury reduction – taking a break can help reduce injury during physical jobs such as bending, twisting and carrying
Creativity boost - increase your creativity and problem solving
Reduce stress - take some time out, unwind and have a bit of you time.
What can you do during at work?
Plan your breaks - plan your breaks at the start of the day and try not to work more than 5 hours without a break. Getting some fresh air is vital to maintaining both good physical and mental health.
Have you done the Flourish mile yet? Click here to see how you can easily walk a mile outdoors at each hospital site. If you work in the community remember to get your steps in and take a break in between visiting your patients.
Work out at home – as many colleagues are currently working from home don't forget to take a regular break and plan a work out with our handy guide.
Work as a Team - plan your shifts and support each other to take your breaks. This is not about making you take a break at a time that is disruptive but at a mutual time that works for the whole team.
Create a 'Take a Break' culture – as a managers and team leader you should lead by example and create the right environment for you and members of your team to take a break.
What can you do when working night shifts?
When you are work a night shift it is just as important to take a break when lack of sleep and tiredness can affect both your physical and mental wellbeing. View our guide to shift work.
What can you do?
Eat well and keep hydrated try to stick to a normal eating pattern and maintain a balanced diet. Keeping hydrated is essential for all age groups and is something we should all be aware of 365 days of the year, to keep us fit and healthy through every season. It is especially important during the Winter months to remember to keep drinking plenty of water throughout the day and don't let caffeinated hot drinks like tea and coffee become a substitute.

An easy way to spot signs of being dehydrated is by checking your urine. Dark and strong smelling urine is a clear sign that you need to drink more fluids. Click here to view our Hydration Chart and monitor your wee to see if your dehydrated

Take short naps like a power nap of about 15 –20 minutes during your break. Make use of eye masks or ear plugs.
What can managers to?
Identify rest areas where night staff can take a rest, a quiet room with comfortable chairs is essential and make sure your team is aware or where they are situated in their areas of work.

Effective rota planning is key and try to minimise frequent changes between day and night shifts.
This week's focus of our Big 5 campaign is 'It's ok not to be ok'. We have all heard this saying or something similar, however, we know that there are still a large number of people - both working within our Trust and living in local communities - who struggle with various mental health and wellbeing issues and feel that they are suffering alone.
That is the case during 'normal' times but we're not living in a normal world at the moment so there may be more people needing a little extra help and support for various reasons.
The purpose of this week's campaign focus is to recognise the importance of us all looking after our own mental health and wellbeing but also being aware of those around us and how they might be feeling. We also want to make it clear that no-one is alone. There is lots of support out there and we will share more details of this over this week.
In the meantime, if you need support at any time or just need someone to talk to, please contact our Occupational Health team who can offer a range of therapies, referrals - both self and management referral. For more info please call 01524 512290 or email occhealth.referrals@mbht.nhs.uk.
Tips for looking after our mental health and wellbeing
It's completely normal to feel sad, stressed, confused, scared or angry during a crisis. To help deal with the pressures and look after ourselves, there are a few simple things you can do:
Try to put aside some time each day to check in on your sense of wellbeing and the clarity of your thoughts

Talking to people can help. If you are living on your own, it is important to keep in touch with family, friends or neighbours on the telephone, using video calls or on social media

Regular exercise can help to relieve anxiety and improve wellbeing. Try to keep active by going on a daily walk, run or bike ride. There are also home workout videos available on YouTube, Instagram, or via fitness apps which can provide suggestions for exercise routines and help you to keep fit
Try to limit worry and anxiety by lessening the time that you and your family spend watching or listening to the media coverage that you perceive as upsetting

Maintain a healthy lifestyle, including eating a balanced diet and aiming for between six to nine hours of sleep each night

Try to avoid smoking, drinking excessive amounts of alcohol or taking any other drugs

Try to look out for your physical and mental health at this time. Wash your hands regularly and only leave your house if absolutely necessary in order to limit the chance of infection. Draw on skills that you have used in the past to manage adversity and help you to manage your emotions
Our Occupational Health team is here to help. They offer a range of therapies, referrals - both self and management referral. For more info please call 01524 512290 or email occhealth.referrals@mbht.nhs.uk.
Am I really ok?
If someone asks you how you are, is 'good', 'fine' or 'ok' your go to answer? Is it a factual interpretation of how you are actually feeling? Sometimes, we get so used to working at a million miles an hour and saying we're ok that we don't recognise how we are actually feeling or what our feelings are telling us. Take a moment to stop and think about the following questions…
Do you feel a lack of feeling of accomplishment or feeling ineffective in what you do?

Do you feel emotional exhaustion - like you have nothing left to give?

Do you feel disconnected from the relationship of caring for the patient, family and colleagues?

Do you feel withdrawal, from social events and loss of interest in activities previously enjoyed?
If you answered yes to any of the above, talk to your line manager or someone you trust about the impact on your work, and make a referral to the Occupational Health team who have lots of different types of support available. You can contact the team on 01524 512290 or email occhealth.referrals@mbht.nhs.uk.
You can also get help and support from:
Mental Health First Aiders - we currently have 54 Mental Health First Aiders in our Trust to support and signpost anyone to appropriate help if required. Please visit the Occupational Health team intranet page
NHS Helpline - Call 0300 1317000 between 7am and 11pm or text 'FRONTLINE' to 85258 24 hours a day

Cancer Care Therapy Services - Call 03330 150628 or 01524 381820
Breathing techniques
People cope with stressful situations in very different ways. One of the most simple and effective methods to calm your mind in a stressful or anxious situation is to breathe. Seems easy, right?
One very good calming breathing technique is called box breathing. This technique can be used for stress, anxiety and panic takes just a few minutes and can be done anywhere.
You will get the most benefit if you do it regularly, as part of your daily routine
You can do it standing up, sitting in a chair that supports your back, or lying on a bed or yoga mat on the floor

Make yourself as comfortable as you can. If you can, loosen any clothes that restrict your breathing

If you're lying down, place your arms a little bit away from your sides, with the palms up. Let your legs be straight, or bend your knees so your feet are flat on the floor

If you're sitting, place your arms on the chair arms

If you're sitting or standing, place both feet flat on the ground. Whatever position you're in, place your feet roughly hip-width apart
Once you're comfy and ready to go:
Let your breath flow as deep down into your belly as is comfortable, without forcing it
Try breathing in through your nose and out through your mouth
Breathe in gently and regularly. Some people find it helpful to count steadily from one to five. You may not be able to reach five at first
Then, without pausing or holding your breath, let it flow out gently, counting from one to five again, if you find this helpful
Keep doing this for three to five minutes
For more hints and tips, You can contact the team on 01524 512290 or email occhealth.referrals@mbht.nhs.uk.
Caring for our children's mental health and wellbeing
Whilst we know this is a difficult time for all of us, we can't forget that it may be a very unsettling time for children. If you have a child in your life, there are a number of things you can do to make sure that they understand what is going on and how to deal with their feelings. These include:
Try to talk openly about the Coronavirus with children and explain what is happening in a way that is appropriate for your child's age. A book for children four to nine years old has been released on www.nosycrow.com to support parents in talking to their children about COVID-19

Children may respond to stress in different ways, such as being more clingy, anxious, withdrawn, angry, agitated or bedwetting. Try to respond to your child's reactions in a supportive way and encourage them to express their emotions. If children find it difficult to articulate their thoughts and feelings, encourage them to do this creatively, for example by drawing or painting pictures of their ideas

Playing games and exercising regularly relieve anxiety and improve mental wellbeing. Try to provide safe opportunities for your children to go outside for exercise, for example on a daily walk or bike ride as a family. There are also a large number of resources available online, such as the Joe Wicks' PE videos on YouTube
Try to keep regular routines and schedules as much as possible, or create a new weekly timetable, including time set aside for learning, exercise, playing and relaxing. Websites such as www.twinkl.co.uk have lots of resources and ideas which can support parents with home schooling. There are also lots of ideas for fun games and activities on www.bbc.co.uk/cbbc

Try to keep children close to their main caregivers and avoid separating children from siblings or parents as much as possible. If separation occurs, for example from hospitalisation or isolation of symptomatic family members, ensure that children can maintain regular contact with them via telephone or video calls.
Support available
The very essence of this section of our Big 5 campaign is that 'it's ok not be ok'. There may be times when we need some extra support to get through; it's ok to ask for help, and there's lots of support out there.
Support within the Trust
Counselling

Cognitive Behavioural Therapy (CBT)

Hypnotherapy

TRiM
Mental Health First Aiders
Nicola Harvery and Pete Sariwee (Ext 42290 / 01524 512290)
Freedom to Speak Up Guardian
Support outside of the Trust
NHS Helpline (0300 131 7000 between 7am and 11pm or text FRONTLINE to 85258 24 hours a day)

Cancer Care Therapy Services - can be non-cancer related concerns (03330 150628 / 01524 381820)
Electronic resources available
We've said it numerous times but there really is a huge amount of help and support available. If you are someone who likes to access help electronically, there are a number of good quality electronic platforms that would be worth you looking at. Some of them are also offering free or discounted access for NHS staff at the moment. We've highlighted some of the most popular ones below.
Headspace
If you sign up with your Trust or other NHS email address, you can access Headspace Plus at no cost until 31 December 2020. A section of this app called 'Weathering the Storm' includes meditations, sleep and movement exercises to help you out, however you're feeling. To register visit their website: https://www.headspace.com/nhs and follow the instructions on the page.
Sleepio and Daylight
Free access to Sleepio and Daylight for NHS staff is available until 31 December 2020. This is available to all NHS staff in England, including those who do not currently have an NHS email address, such as medical students and former staff returning to the workforce.
Sleepio is a clinically-evidenced sleep improvement programme that is fully automated and highly personalised, using cognitive behavioural techniques to help improve poor sleep

Daylight is a smartphone-based app that provides help to people experiencing symptoms of worry and anxiety, using evidence-based cognitive behavioural techniques, voice, and animation
To sign up visit their website: https://go.bighealth.com/en-gb/nhs-staff and follow the instructions on the page.
Unmind
Unmind is a workplace Mental Health platform and they are offering free access for NHS workers during the pandemic. They empower organisations and employees to measurably improve their Mental Wellbeing. It could be sleep, stress, productivity, or even your ability to support others during a difficult time – all delivered in bite-sized chunks through audio, video, and interactive content. To register, visit their website https://nhs.unmind.com/signup and follow the instructions on the page.
Move GB
NHS staff are being offered a free MoveGB membership to allow you to join live streamed classes hosted by their local instructors, plus get access to on-demand workouts so you can work out anytime that suits you. To register visit their website: https://go.movegb.com/nhs and follow the instructions on the page.
If you would prefer support face to face or over the phone, please contact our Occupational Health team who offer a range of therapies and courses to colleagues. You can contact the team on 01524 512290 or occhealth.referrals@mbht.nhs.uk.
We also have 54 Mental Health First Aiders in our Trust to support and signpost anyone to appropriate help if required. Please visit the Occupational Health team intranet page for more information.
This week's focus of our Big 5 campaign is 'Speak Up'. The purpose of this week's campaign focus is to recognise that – regardless of which department, site or team you work in - raising concerns should be considered 'business as usual'. It is one of the ways that we can all work together to make sure that patient safety and quality of care remains our highest priority.
It is really important that we all feel empowered to raise concerns if we see something that isn't right or that may compromise safe patient care. It is also essential that colleagues know that they will be listened to and supported by the Trust if they do raise a concern.
What is Freedom to Speak Up?
The 'Freedom to Speak Up' initiative came as a direct result of the lessons learnt from the 2013 Francis Report on the Mid Staffs Scandal public inquiry. The report was published in 2015 and found that, historically, concerns raised by NHS staff were often not welcomed and, in the worst cases, staff were treated very badly.
This attitude ultimately endangers patients and makes staff feel powerless and unable to speak up.
Shortly after the publication of the FTSU review, Heather Bruce was appointed as UHMBT's Freedom to Speak Up Guardian – one of the first in the country.
Heather's role is to ensure that staff concerns are listened to and dealt with accordingly, and to provide guidance on how those working in our services can raise and escalate concerns, including outside of usual line management structures.
Raising a concern
If you have a concern about patient or colleague health and safety, professional or ethical misconduct, bullying, or anything that does not reflect what we expect as part of our vision and values, you can follow the below steps to raise a concern:
Step 1 – If possible, raise your concern at the time.
Step 2 – Raise with your line manager if that is appropriate.
Step 3 – If you remain concerned, contact the Trust's FTSU Guardian, Heather Bruce, at heather.bruce@mbht.nhs.uk or 07890 587013
Step 4 – If you do not feel that the matter has been handled correctly, you can contact:
- Shahedal Bari, Lead Executive Director, shahedal.bari@mbht.nhs.uk
- Bruce Jassi, Lead non-executive Director, on bruce.jassi@mbht.nhs.uk
- Aaron Cummins, Chief Executive, on aaron.cummins@mbht.nhs.uk
· Step 5 – If you feel that this matter cannot be dealt with within the Trust, then you can raise your concern by phoning the national speak-up helpline on 0800 0724725 or contacting the Care Quality Commission at www.cqc.org.uk
Don't forget that at any time, you can also contact your Union Reps and/or our Respect Champions for advice and support.
You can also raise your concern via our dedicated FTSU app. The app is available to download for free from the Apple App Store or Google Play for Android, and gives staff all the information they need on raising a concern and what to expect next. Concerns can be submitted anonymously, however feedback can only be given if a name is provided. Take a look at this short animation which explains more about raising a concern.
All concerns are treated confidentially.
For more information about Freedom to Speak Up, including how to raise a concern, visit the Trust website: https://www.uhmb.nhs.uk/our-trust/freedom-speak, or staff can contact Heather Bruce, FTSU Guardian, directly at heather.bruce@mbht.nhs.uk or 07890 587013