We aim to provide and promote an efficient and effective, high quality breast screening service, to all eligible women within a caring environment.
The North Lancashire and South Cumbria Breast Screening Service is part of the National Breast Screening Programme and provides a free breast screening service for eligible well women in North Lancashire and South Cumbria.
Breast screening aims to find breast cancer at an early stage, often before there are any symptoms. To do this, an x-ray (mammogram) is taken of each breast. Early detection may often mean simpler and more successful treatment.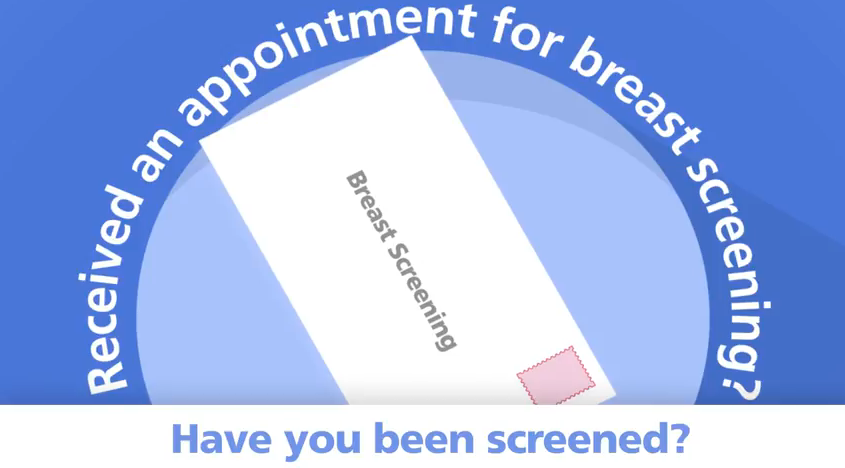 Screening is organised according to your GP practice. Once every three years, your GP practice will be contacted and all eligible women between the ages of 50 – 71 will be routinely invited for a breast screening appointment.
A list is compiled from GP records, so it is important to make sure your details are correct.
We invite doctor's practices for screening in turn, so women will not necessarily get their invitation in the year that they turn 50. All women will receive their first invitation for a mammogram sometime between their 50th and 53rd birthdays. As long as you are registered with a GP, you will receive an invitation before your 53rd birthday.
If you are over 71 and have not been screened for over 3 years you are also welcome to contact our office on 01524 518699 to make an appointment.
The aim of breast screening is to detect breast cancer at an earlier stage, often before the woman is aware of any problem. Scientific evidence shows that regular breast screening, between the ages of 50 - 71 years, reduces the death rate from breast cancer.
80% of breast cancers occur in women over 50. The risk of breast cancer rises as women get older, which is why the breast screening programme only targets women in this age group.
We have a range of screening locations to choose from. We will aim to offer you a screening appointment at a location closest to you, when you contact us However, this may not always be possible, based on demand and the location of our screening mobiles at that time.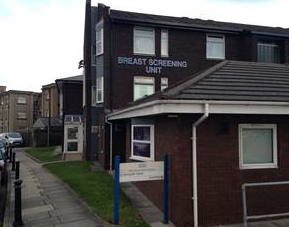 Westmorland General Hospital - Kendal
Furness General Hospital - Barrow-in-Furness
Royal Lancaster Infirmary - Lancaster
Mobile vans provide a screening service across Blackpool and Fylde and Wyre areas, which visit car parks at:
Your mammograms (x-ray) are reviewed and the results will normally be sent to you within two weeks. Your GP will also be notified of your results.
There are 3 possible results:
1. Normal
Your x-rays have shown no signs of cancer and you will be invited again in 3 years time for your next routine screen. If you will be over 70 then please contact us for an appointment nearer the time.
2. Technical Repeat
The mammogram needs to be repeated for technical reasons only. The quality of the x-ray does not allow for all the breast tissue to be seen clearly. Approximately 3 out of every 100 women screened will be called back for a technical repeat to get a good quality mammogram.
3. Assessment
Sometimes the mammograms do not give enough information and a further examination is needed before we can decide on a result. If this is the case you will receive an appointment to attend our assessment clinic at the Royal Lancaster Infirmary Breast Care Unit. This additional appointment is part of routine screening and for most women invited back nothing of concern will be found. Any women invited to an assessment clinic will be able to speak to a breast care nurse if they want more information before attending.
You have been invited back for further tests because your breast x-rays did not give us enough information and more detail is needed before we can decide on a result.
If the clinician interpreting the screening mammogram images sees something that is questionable, unclear or abnormal on the images, they ask the patient to come back for further assessment.
This additional appointment is part of routine screening and for most women invited back nothing of concern will be found.
On arrival most women will meet a Radiographer or Radiologist who will explain what is to happen during the clinic.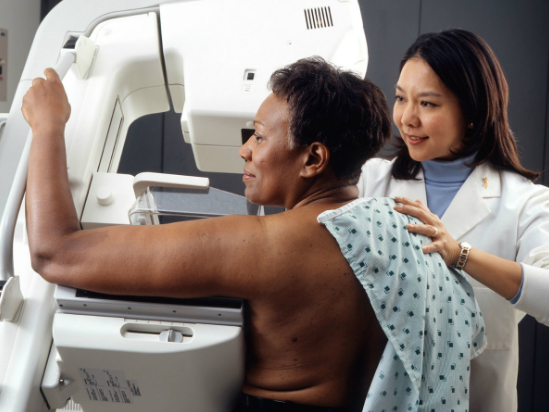 You may have some or all of the following tests:
Breast examination: the doctor / practitioner will talk to you about your mammograms, will ask you some questions about your general health and will then examine your breasts.
Mammogram: most women will have further mammograms in order to show a particular part of the breast in greater detail.
Breast ultrasound: ultrasound will be necessary for all women. An ultrasound scan uses sound waves to provide a picture of the breast tissue. It is harmless and pain free and does not involve any x-rays
Breast needle biopsy: it may be necessary for some women to have a small tissue sample taken from the breast. Local anaesthetic is always used to numb the area first.
Before you leave the clinic the Radiologist will talk to you about your results. In most cases, the Radiologist will tell you the results of the tests on the same visit. If a needle sample is taken, the breast care staff will make an appointment for you to receive your results.
Change your appointment
If you are unable to attend your allocated breast screening appointment detailed in your letter, or if you wish to cancel the appointment, please fill in the form below using the details from your letter and we'll contact you in writing within 14 working days with a new appointment date.
Frequently asked questions
Yes, please complete the online form to request an alternative date, time or location of your screening appointment.
Alternatively you can call the screening office on 01524 518699 (9am - 4pm, Monday - Friday).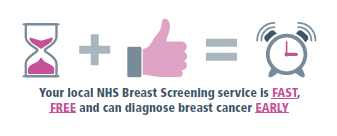 Having a mammogram can be uncomfortable and some women find it painful. Usually, any pain passes quickly.
We respect your decision not to be screened, although we would encourage all women to attend their breast screening appointment when invited. However, if you choose not to take up your invitation please contact the screening office to inform us that you do not wish to take up the invitation.
If you change your mind, ideally within six months of receiving your invite, we will be happy to arrange screening for you.
Where possible, please attend your appointment alone. Please be aware that there is limited space at some of our screening sites, particularly the mobile screening vans.
We would discourage anyone to bring young children with them. The mammograms use x-rays so no one else can be present in the x-ray room so your children would have to sit in the waiting room by themselves.
Men may be present in the main waiting area, but a female Mammographer will always perform the x-ray.
Please contact the screening unit using the online form and we will arrange a new appointment for you.
You will be asked to undress completely down to your waist so it is a good idea to wear a separate top instead of a dress.
Some deodorants and talc are visible on the mammograms and can lead to the mammograms being repeated so it is best not to wear any deodorant or talc. You can always bring some wipes and wipe any deodorant off before your appointment.
No. Breast screening aims to find breast cancer at an early stage when it may be too small for you or your doctor to feel. Finding breast cancer early greatly increases the chance of successful treatment
Please contact us on 01524 518699 to discuss your screening appointment for us to establish if this invitation is suitable for you to attend.
If you have a breast lump or any other breast symptoms you should make an appointment with your GP, who can organise a referral to your local breast unit.
Any x-ray involves radiation, but mammograms only require a very low dose. It is about the same as the dose a person receives by flying from London to Australia and back. The risk that such a low dose could cause a cancer is far outweighed by the benefits of early detection of breast cancer.
Your results will be sent to your home address and you should expect to receive them within 2-3 weeks. You will be advised of any expected delays at the time of your screening.
A female Mammographer will always perform the x-ray.
Yes, it is safe for you to have a mammogram. It is helpful if you can tell the Mammographer where your pacemaker is sited.
Breast implants appear as a solid white area on a mammogram. This may hide some of the breast tissue preventing it from being seen on the x-ray. The film readers will only be able to report on the breast tissue that they can see on your mammogram so usually extra images are taken. Before commencing the mammograms, the Radiographer will explain everything to you so that you will be aware how your mammograms will differ to mammograms without implants.
Please contact us on 01524 518699 to discuss your screening appointment, as we would like to allocate more time for your appointment. Your appointment will be made at one of our units in Barrow, Kendal or Lancaster where we have larger rooms and disabled access.
Breast Screening Unit
Ashton Court
Royal Lancaster Infirmary
Lancaster
Lancashire
LA1 4RP
Tel: 01524 518699 (9am - 4pm, Monday - Friday)
Email: bsu.rli@mbht.nhs.uk